The Department of Computer Intelligent Technologies and Systems (KITS) trains specialists in the field of intelligent technologies and systems: masters in 123 – Computer Engineering, in the educational program "Computer Intelligent Technologies" (KIT) – 16 budget places!
KIT educational program is accredited!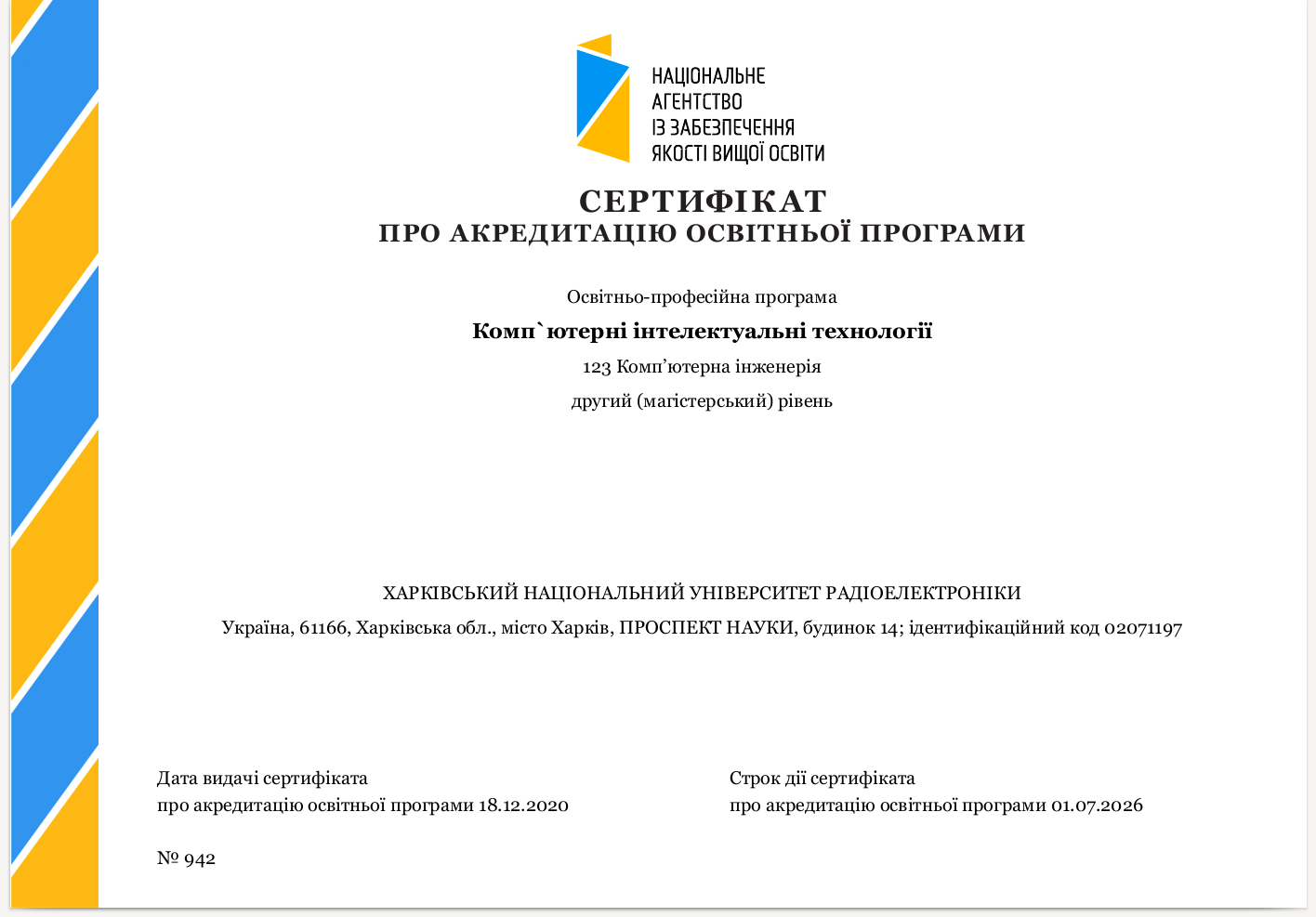 The decision was adopted at the meeting on December 15, 2020, Minutes No. 22 (41), Accreditation Case No. 1036 / АС-20 Accreditation Decision
Information on self-assessment can be found here.
Qualification received by the graduate of the department: Master, Computer Engineering, Computer Intelligent Technologies
Almost all applicants for the educational program KIT enrollment 2019 (students of KITm-19-1) received a scholarship and had scientific publications through fruitful work with teachers of the department. In just six months of study, more than 40 publications have been published, including in the Scopus scientometric database.
The main direction of training of masters in the educational program KIT – algorithmic, software and hardware of computer intelligent systems. It is planned to teach disciplines in the following areas: analysis of big data using artificial neural networks; intelligent video analytics; basics of deep learning (for computer vision, image recognition, etc .; methods and tools of artificial intelligence; intelligent computer systems on the platform Raspberry Pi and programming for it in Python; basics of accelerated computing in CUDA (for C / C ++, Python ), Architecture of neurocontrollers and neuroprocessors, computational methods and models based on artificial immune systems and others.
Constantly emerging new technologies have already changed our lives and the world around us. And not only smart homes and embedded systems, but also smart City, virtual reality, facial recognition technologies, generating competing networks, genetic predictions of the use of AI for the development of machine vision – are not fiction, but real opportunities for a revolution in medicine , science, production and robotics.
Join us!